Dr Chris Carter led group sessions on the Ingenuity Process, as participants began to identify their chosen solutions and firm up their business pitches.
First place was awarded to a multidisciplinary team made up of a University of Nottingham student and graduates from Cardiff University and Birmingham City University. Simeon Lee (Liberal Arts, Nottingham), Dina Elzain (Biomedical Sciences, Cardiff) and Tharuka Widanage (Mechanical Engineering, BCU) were awarded the top prize of £3,000 for their idea based on improving the wellbeing of BAME communities, which are at a disproportionately higher risk of obesity and associated disorders than the rest of the British population.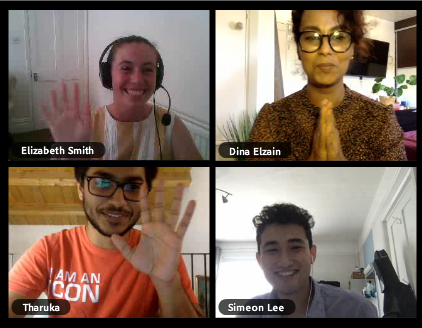 "It was great fun and really interesting from beginning to end. The team all having slightly different backgrounds and degrees proved useful, plus Simeon had done a related Ingenuity module at Nottingham so we were familiar with the process", the team said after. "Pitching is always nerve wracking! However, we prepared lots prior to our slot and it paid off!"
Second prize was awarded to Ben Keeble, a Physics student and Witty Entrepreneurial Scholar at the University of Nottingham. Ben was awarded £2,000 to help fund a prototype for his portable seat raiser, aimed at helping elderly people who find it hard to get out of chairs.
"This event was what I needed at this difficult time", said Ben. "It helped me understand the issues faced by people on a daily basis who have health problems, and it was great to make friends with people who share my passion for solving business problems. I would like to thank all the organizers for putting on such a successful event in a new and innovative way during this difficult time!"
If you're interested in creating resilient communities by improving physical and mental health, as well as gaining access to these insights and more, sign up to our Develop Platform from 14th September.